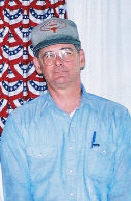 PRESIDENT'S MESSAGE
Greetings,

We had a very productive meeting on November 8th at the J bar S Ranch. As usual, John and Sheila Hodges were gracious host's. I would like to thank them for all of their time and effort they expended to ensure that all those who attended had a great time. One of the items we accomplished was the approval of an early spring show next year. The board voted on and approved having our first show on March 5,6 and 7. It will be held at the Johnson County Sherrif's Posse Arena in Cleburne. This time we have also reserved the large covered arena in addition to the livestock show barn. I need to start getting committments from you members out there - I need volunteers to assist during the show (ring stewards, official bookkeeper, concession stand operators and wranglers for the nonhaltered show) and to help set up. Please contact me if you are able to assist in any way.
I would also like to remind everyone that we need nominations for all positions of the MTLA board. Get those in early so that we can get a ballot out in time this year. I would like to see the ballots go out in February so that we can announce the new officers at our first show.
I hope to see everybody on the show circuit next year - remember, not only does our affiliate need your support, but all of the ITLA affiliates can benefit from our participation!
Remember, if you have any questions at all, please feel free to contact me. It is usually best to catch me by my e-mail address Longhorns@htcomp.net but you can also call me at (254) 797-5506 too. Thanks, Brad Hancock

---
YOUTH NEWS
Attention all MTLA members, big and small!! The MTLA youth will be hosting a "Turn-About" show this year. The show is scheduled for June 19th, 2004 in Midlothian, Texas. The entry fees will be $10 per animal, and all proceeds will benefit the youth program. The classes will be the same as any open show.
So, you don't know what a Turn-About show is? The youth will be responsible for putting all aspects of the show together. The judges will be Brandee Baldwin, and Ryley McCullar. Other youth will help out with other show duties such as ring steward, gate keeper, announcer, book keeper etc. So here's the twist. All of the entries in the show will be exhibited by the parents and other adults....many of whom have never been in the show ring before. You want to see something that is one of a kind? Come and join us for a class of adult showmanship. The judges for this event will be Kurt Knoerr and Stephanie Carrington.
Please join us this day and help support the Metroplex youth. Don't miss the fun or excitement, or hilarity that this show promises to offer. It will be a unique experience. More details are coming soon.

As always, if you have any suggestions for the youth, please let me know by email at a6543210@itexas.net or by phone at (817) 512-3315. See you in the ring...Danielle AndrewsYouth Director

---
FINANCIAL REPORT
The following is our financial report as of October 30th, 2003. There's not a lot going on this time of year with fund raising or debts, so the balance is pretty much the same as the last report. Still, with $6619 in the bank, we are prepared to start work on our upcoming shows.
Balance Sheet

October 30th, 2003

Checking Saint Jo
1809.97
Savings Saint Jo
2860.81
Youth Fund Saint Jo
1949.17
Total Assets
6619.95

Liabilities & Equity

Retained Earnings
6384.17
Net Income
235.78
Total Equity
6619.95
Balance
6619.95
---
TIARA SELLS HIGH
Sing Along To The Beverly Hillbillies Tune

Lemme tell you all a story about a man named Larry.
Wanted to sell his last cow, and found it awful scary.
Everyone was away...at Convention, or a show.
How much would she bring? He really didn't know.

Any of you that missed the sale, missed a very nervous Larry Smith fresh off the airplane, back from Louisville where he had just judged the Loose show. The barn was full of anticipation as everyone speculated just how much Lot #9 would bring.
Most of you know that Larry has a big place in his heart for steers, yet here was this last female cluttering up the pasture he had to get rid of. In earlier days, there were lots of cows around. Many had come and gone in the past, and Larry will probably make room for some more in the future, but the story of this particular longhorn starts way back on Bart & Phyllis May's ranch.
From one of Bart's breedings came a calf which Larry bought at about 2 months old which he named "Princessa". It takes a pretty trained eye to spot a winner at just 2 months old, but Larry was confident that just maybe he had something. Once he got Princessa up to breeding age, he bred her to his bull "Encore", an Impact's Texas Ranger bull. If you haven't already guessed, "Tiara" was the result of this breeding. When Larry loaded them both up, and showed Princessa with Tiara at side at the Houston Livestock Show in 1998, they brought home top honors, and Larry knew that he had struck gold in the show ring.
He sold Princessa to Stan & Raelynn Stephens where she is still on the show string, but held on to Tiara. When he decided to sell her, it could not have been a busier weekend in the industry. There were at least three major events scheduled for that weekend, and Larry had already been to one of them. Home at last, with pre-auction offers running through his head, lots #1 through #8 must have seemed like an eternity. Finally, Lot #9 entered the ring....bull calf at side......horns off the scale. The bids flew by fast.... quickly surpassing the couple of hundred I had agreed to bid if no one else was in. Joyce was handling some of the phone in bids, but the buyer was there in person, determined to not be out-bid. When the Colonel gave the final strike of the gavel, Bruce Easterly had won out with a final bid of $12,500.00 I think you could actually hear the sigh of relief Larry let out when it was all said and done.
As for any of you hoping to be Larry's new long lost friend, you can forget it. The money's already gone towards a new pickup, and college money for a couple of young daughters, Meagan and Kendall.
So what about those steers we talked about at the first of this story? "Gus" just happened to earn High Point Senior Steer in the Nation for 2003. Way to go Larry!

---
OCTOBER BOARD MEETING
Highlights from the meeting at Hodges on Nov 8th include the meeting called to order by President Hancock. The minutes were approved from the previous BOD meeting. Rick Baldwin made a motion to accept the minutes as they were, seconded by Sabina Knoerr. Brad made a motion to suspend the rules of order, which was seconded by Rick Baldwin. Brad submitted proposals for the next show at Cleburne which included the date, awards, judges, sponsorships, etc. Sabina Knoerr made a motion to accept the budget, and Maritza Andrews seconded. Brad explained that nominations for the 2004 officers will be mailed out on formal ballots. Names for positions on the board and directors need to be turned in. The ballots will be mailed out, and the results will be announced in March 2004. Laurie McCullar presented a money-raiser for the youth which was a scratch off card with donations. Motion was made by Rick Baldwin to adjourn, seconded by John Hodges. Meeting adjourned.
---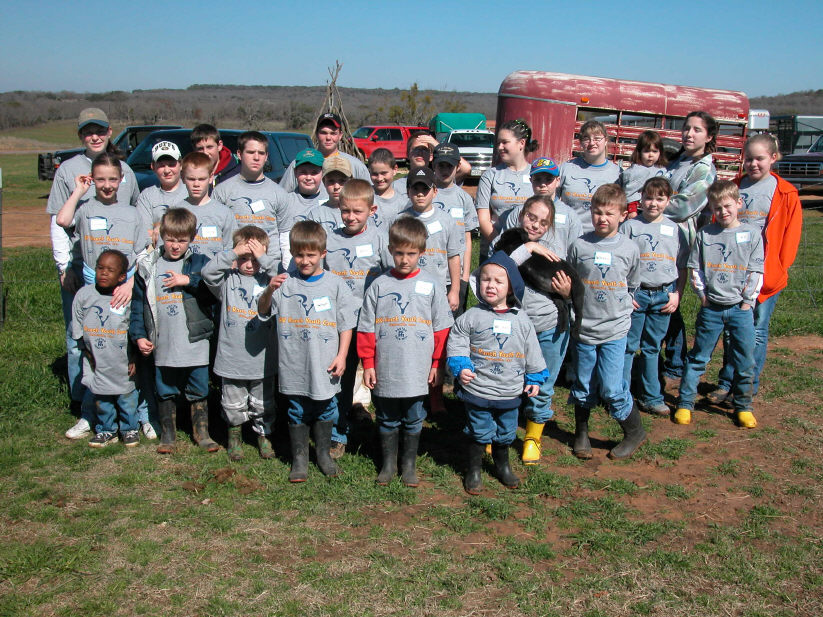 2003 Camp Photo
RV RANCH YOUTH CAMP 2004
RV Ranch Youth Camp has established a board of directors to help administer the progress of a growing youth organization, and they conducted their first planning meeting Nov. 15th, 2003 at a lunch in Stephenville, Texas. Members of the board include, Randy Ingle - Chairman, John Ingle - Administrator, Sabina Knoerr - Director, Maritza Andrews - Director, Donna Bridges - Director, Raelynn Stephens - Instructor, and Bart May - Instructor. In addition, some of the instruction will be conducted by youth mentors, Danielle Andrews, and Stephanie Carrington.
Topics covered at the meeting included discussion of new curriculum added to the camp for 2004. We will still include the basics of halter breaking, showmanship, cattle evaluation and ring etiquette for those who would still benefit from those topics, and have added to their schedule, "Sell Me Your Longhorn" which will have them prepare an ad for a sale catalog and make a presentation to the group to sell their calf. The second group will consist of camp members who have shown that they have mastered the basic skills, and are ready to grasp more advanced topics. This year's focus will be, the historical impact of famous sires and dams on the industry. Youth in this group will be required to bring papers on two of their animals, trace their lineage back to a famous sire or dam, and be prepared to give oral reasons regarding the influence they have made on their herd. We will even have some classroom time for the Pee Wee's and have developed some educational work for them based on their level. They will get to learn about grooming and leading an animal, and will learn anatomy from coloring the different body parts. Once the classroom sessions are over, all of the youth will demonstrate what they have learned as we conduct a hand's on showmanship class.
This year's camp is scheduled for Saturday February 21st and Sunday February 22nd, 2004 in Stephenville, Texas. It's an overnight camp with the kids sleeping up in the barn. Most of our instruction is on Saturday, with cattle evaluation or some other topic on Sunday, and generally we are ready to depart by noon Sunday. Travel trailers are welcome for the adults who wish to stay, or accommodations can be made in Stephenville which is about 15 miles away. The camp goes on regardless of what the weather throws at us, as we now have youth members who are traveling from out of state. We can conduct classroom activities inside the barn if we have to, but would rather provide the hand's on experience and be outside.
We always have some games planned for after the classes on Saturday, then we have our meal and light the big bon fire. This year, we are going to have a chuck wagon here for the dinner meal and breakfast. This is our first year to attempt something of this nature, but eating out of a chuck wagon will add some historical background about what it was like out on the trail. Well...we won't actually make the kids eat an authentic meal of salt pork, beans and biscuits, so the meals will be more nostalgic than authentic, but we feel that a chuck wagon will be a great addition to the camp.
The camp is offered free to all youth who have an interest in owning or showing longhorns thanks to the generosity of our many sponsors and volunteers. The instructors for the camp are ITLA judges, and the curriculum is based on ITLA show standards and judging criteria. Youth are welcome from either association or even if you don't own a calf yet but want to get involved. We have seen a tremendous increase in confidence, public speaking, and showmanship skills from the youth who have attended the camp in years past, and we hope these skills provide a firm foundation for longhorn ownership and ranching in their adult lives.
If you need additional information about the camp, or want to be added to our mailing list, please contact John Ingle at (254) 965-4412. Updates to this year's camp activities will be included in future newsletters, and the invitations will be sent out in December. We hope you will make plans to get your kids to the camp and join us for some fun and new events this year. Click HERE to go to the camp webpage for pics and more information.
---
1994 - 2004
10 YEAR ANNIVERSARY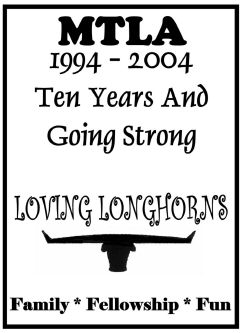 2004 will celebrate the 10th year for MTLA, and we have chosen to mark this celebration with a commemorative T-Shirt, and encourage all MTLA lifetime and annual members to get involved.
The shirts have been ordered, and orders will be filled to the members who pre-ordered their shirts first. We did order a couple of dozen extra shirts that are not spoken for yet, so if you did not get yours pre-ordered, please let us know ASAP so that we can get your name on the list. Shirts will be available after the first of the year, and payment for the shirts will be due when the shirts once they are available.
We hope that you will take advantage of this opportunity to share in this one time event, and will support MTLA.

---
MEMBERSHIP MEETING & YOUTH PRESENTATION
Guns N Roses have a song about "Cold November Rain", and I now know that the inspiration for that song comes from John & Sheila Hodges. It has become typical now that anytime we plan an end of year youth party at the Hodges', that rain is going to be in the forecast, regardless of what the weather has been like the week prior, or after, the event. The joke now, is that we're going to start scheduling the party for mid July since the weather has become so predictable.
Year three, and we're back at the the Hodges' on an invite to have a youth party for the kids. In addition to the party, plans were made to hand out the youth Participation Awards for the youth who qualified. Youth Director, Danielle Andrews conducted the youth meeting where plans were also made for the upcoming Turn-About show.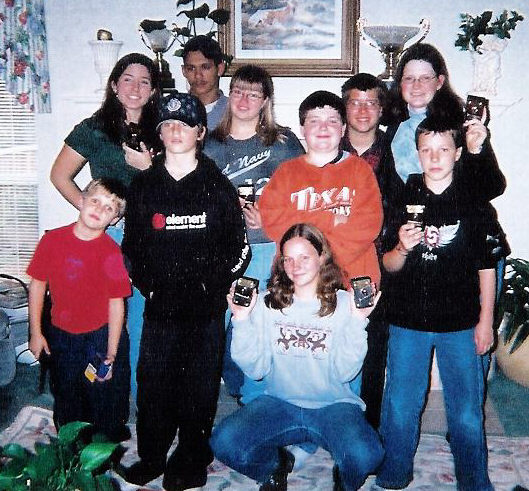 The participation awards this year were personalized show clips for each of the youth who met the minimum requirements. Awards in years past have included embroidered jackets, Montana belt buckles, personalized leather belts, and this year's show clips. Pictured in the photo are, Danielle Andrews (kneeling), Front Row - Marc Knoerr, Sean Knoerr, Aaron Hyde, Kurt Knoerr. Back Row - Stephanie Carrington, Craig Velasquez, Brandee Baldwin, Buddy Hancock, and Beth Ann Hyde. Youth recipients not pictured are Ryley McCullar, Parker Grudt, Kristi Heinze, James Bridges, and Justin Bridges. Congratulations kids!!
Despite the bad weather, we had a nice turnout and lots of food thanks to the brisket which was provided, and all the covered dishes everyone brought. Thanks again to John & Sheila for their gracious invitation, and for hosting this event once again.

---
IT'S A GIRL & ANOTHER GIRL
There have been some recent additions to our longhorn family, and a couple of new pee-wee's in training that need to be introduced. Pictured are Keara Simpson with her new sister Kylie. That's right....ITLA Office Manager, Jennifer Simpson and hubby Jason have their second girl, Kylie, and Jennifer says she's the exact opposite of Keara. Kylie is very quiet and laid back and just takes things in. She was born September 25th, and weighed 8lbs-12oz, and was 20 inches long. Jennifer says when you compare her baby picture to Kylie's, it's almost identical....so now we have a little Jason, and a little Jennifer!!

Second on the list comes to us from east Texas. Kassity and Justin Taylor are the proud parents of a newborn baby girl, Kamryn Brooke Taylor, who was born November 10th. She was 7lbs 7 oz, and 20.20 inches long.
Congratulations to new parents and the new Pee-Wee in training.

---
HOTTER 'N HELL - PART II Scheduled for July 29th, 2004

Be brave!.
---
CONVENTION RESULTS
Several MTLA members made it up to Louisville for the Convention this year and had a great show. We wanted to recognize their accomplishments this year in the show ring, as many of them received National recognition as High Point Merit winners. I want you to take notice how many youth members took top honors this year. Congratulations to all of the winners. The list below is of MTLA members only.
Region 9

Ch Jr. Heifer (H)
Lady Blue
Duane & Thresea Tabor
Ch Jr. Heifer (H)
Starburst 42
Ryley McCullar
Res Jr. Heifer (H)
HD Gloria
Duane & Thresea Tabor
Res Jr. Heifer (H)
Phenom's Chocolate Girl
Joel & Carolyn Hawk
Res Sr. Heifer (H)
Montana Belle
Beth Ann Hyde
Ch Jr. Cow (H)
Lady Luck
Ryley McCullar
Ch Jr. Bull (H)
El Sunrise
Duane & Thresea Tabor
Ch Jr. Steer (H)
CC Song
Beth Ann Hyde
Res Jr. Steer (H)
B's Midnight
Aaron Hyde

Region 10

Ch Sr. Cow (NH)
PV Texas Treasure
Kourtney Riley
Ch Jr. Steer (NH)
Murphy
Git N Better
Res Jr. Steer (NH)
Wichita
Git N Better
Ch Sr. Steer (NH)
LY Booger Ray
Ronnie & Katrina Easterling

Region 11

Res Jr. Heifer (NH)
Morning Star
John & Sheila Hodges
Ch Sr. Heifer (NH)
Tupelo Honey
John & Sheila Hodges
Ch Jr. Cow (NH)
J/S Molly
John & Sheila Hodges
Ch Sr. Cow (NH)
Admiral's Song
John & Sheila Hodges
Ch Jr. Steer (NH)
Hill Climber 2's Mac
Bar W Ranch
Ch Jr. Heifer (H)
Ranger's Southern Belle
Donny & Janice Heinze
Res Jr. Heifer (H)
Measle's Mustang Sally
Donny & Janice Heinze
Ch Sr. Heifer (H)
Texas Lady HL
Kristi Heinze
Res Sr. Heifer)
B's Diva
Brandee Baldwin
Res Jr. Cow (H)
WInd Drifter's Lil Breeze
Rocking B Ranch
Ch Jr. Bull (H)
Doc Holiday
Renee Carrington
Res Int Bull (H)
Measle's Tater HL
Kristi Heinze
Res Sr. Bull (H)
B's Millionheir
Rocking B Ranch
Ch Jr. Steer (H)
Gunsmoke
Brad & Robin Hancock
Res Jr. Steer (H)
RV Bruce
Justin Bridges
Ch Sr Steer (H)
Gus
Larry Smith II
Res Sr. Steer (H)
Knight RIder
Kristi Heinze
---
Go To Previous Newsletter