Our sixth camp was a great camp with many new and exciting things this year. Our most obvious addition was in the form of a chuck wagon to prepare our meals for us. Johnny and Leonna Adkins agreed to come down from Baird, Texas near Abilene to cook for us during the camp. I met them up in Lubbock during the Cowboy Symposium last year thinking that if we could afford to get a chuck wagon down here, that it would add some nostalgia to the camp. They brought more than nostalgia with them. They opened their hearts and agreed to come down and cook for traveling expenses only. I quickly informed our board of their offer and we all agreed that we should add the chuck wagon to the camp. Johnny and Leonna prepared our Saturday evening meal of beef stew with cornbread and cobbler. It was a great way to end the day and get the bonfire kicked off. For breakfast, they prepared (14 dozen) scrambled eggs and potatoes with sausage, biscuits, and coffee. Yummy!! I hope that we can continue to have them join us for the camp as it was a blessing to have them.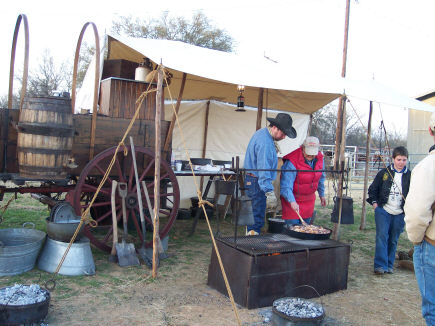 In addition to having the chuck wagon this year, we also were blessed to have several out of state kids and families join us. The Jones' made their third trek down from Utah to attend the camp. And we had new kids from Kansas and Ohio as well. Valerie Keeting came all the way down from Kansas with her son Christopher. They heard about the camp from Raelynn Stephens and wanted to get Christopher off on the right foot. From Ohio, we had Roger Meyer gather up three of his grandkids and get them down here for the camp. He brought Brandon and Crystal Kassales, and Cody Dempsey this year. We had an abundance of new kids from in state as well. From Lubbock, we had Danielle and Garrett McCarty for their first camp. Storm and Paisley Snyder came over with the boys ranch youth. Dustin and Carmen Snyder are host parents at the ranch now. Amanda Short came with the Hancock's, new to the camp this year, and Emily Yoder's dad, Mark, made sure that she got to come as well. We also had about 5 kids from the Jones' family from Glen Rose running around here somewhere.
These new kids are really the ones that we are reaching out to with the camps. We hope that we can instill confidence in working with their animals, and help to get them up to the same level of competition as some of the more experienced kids. Having this many new kids come to the camp is certainly a blessing to us.
This was our first year to accept outside sponsorships, and people have been very generous to support our youth. The camps have grown from being able to provide everything out of our back pockets. With the continued support of our sponsors, the camp will always be FREE to all youth who wish to attend. I would rather not have the camp than to have to charge a fee for attendance. Our sponsors this year had expressed a desire to help fund the camp, and their contributions covered our costs for office supplies and postage, printed material for our classes, three meals of food and the chuck wagon, our weather gear and toilets, free T-Shirts for the kids, photos for them to take home with them, and national advertising. We were truly fortunate to be able to cover all of our bills from sponsorship money. All of our staff and instructors are volunteers, and all proceeds go directly to the benefit of the youth.
Thanks to everyone who helped make this year's camp such a great success. Thanks to all of the volunteer's who gave up their weekend to come out and support the kids, and to everyone who traveled to make it to the camp. We hope that it was a worthwhile and rewarding weekend for you. We look forward to seeing you in 2005!